Mr. J S Ambani who was a young accountant by profession working for a large conglomerate was irked by the very hard touch of the typewriters that were in use. This prompted him to search for other makes not available in Sri Lanka (then Ceylon) he looked to the USA which then was getting the worlds focus and came across what was regarded as the Rolls Royce of typewriters at that time- "Royal "known for its feather like touch. There was however a problem as it way more expensive than what was available, notwithstanding he asked a local vendor to import some for the use of the company but they were reluctant. He then saw the opportunity if one had the courage to go for quality. He quit his job and took the bold step to embark into entrepreneurship. Metropolitan was thus born in 1958 on the 25th of August coinciding with the Birth of one of his sons J J Ambani.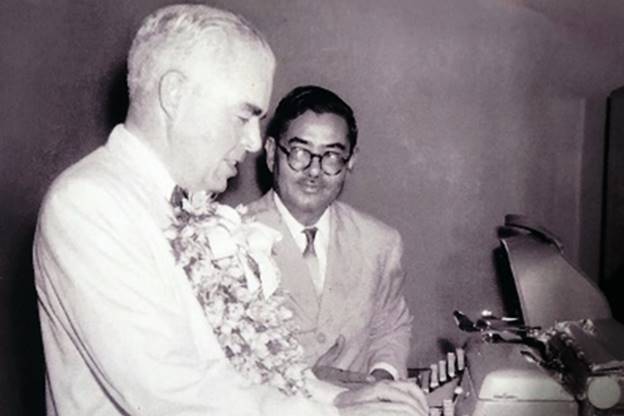 Mr. J.S Ambani with the American Ambassador at the Launch of Royal Typewriters in Sri Lanka in 1958
He then began to look to substitute other office equipment and partnered with the very best of breed products from around the world. He soon represented world renown brands such as, Facit Calculators and Ericsson manual switch boards from Sweden. His quest for quality didn't stop with the products and so backed it by superlative aftersales service that is talked of to this date. To him it was a source of pride to hear his customers pay tribute to it.
In a short time, Metropolitan emerged as a leading supplier of office equipment in Sri Lanka on the back of this combination. It was a value proposition absent in the market and soon gained the trust of customers. It is this trust that is the bedrock for its growth and continues to be earned today six decades later.
With the advent of electronic office products Metropolitan was the pioneer soon launching the electric typewriters, electric calculators and Telephone systems. Soon the company introduced an array of products that transformed the office and became to the office what Unilever or Nestle is to the home.
With the support of his five sons who are experts in Finance, Marketing, Business Development, Engineering and IT he expanded the business and rapidly introduced new technology that was in many instances the first of its kind in Sri Lanka. Soon Metropolitan dominated the office automation sector and the company grew from strength to strength.
The legacy of quality and support is engrained in the DNA of the company and makes its contribution to the country, business and individual needs providing state-of-the-art-technology solutions in Information Technology, Communications, Imaging and Printing, In-Building Solutions, Customized fit-outs and a range of equipment for the discerning photographer.
The company has grown to be unique in Sri Lanka with the depth and breadth of technology solutions that empower the success of its customers.